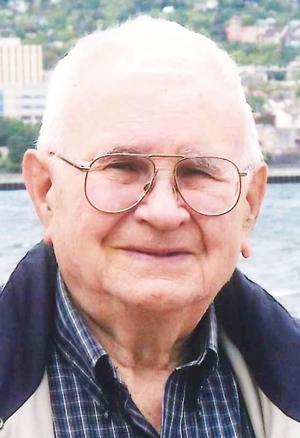 DAKOTA CITY | Donald J. Kramper, 86, of Dakota City passed away Tuesday, Dec. 29, 2015, at a Sioux City hospital.
Services will be 10 a.m. Thursday at St. Michael's Catholic Church in South Sioux City, with the Rev. Paul Albenesius officiating. Burial will be at a later date in St. Michael's Cemetery. Visitation will be 9 a.m. until service time Thursday at the church. Arrangements are under the direction of Mohr Funeral Home in South Sioux City.
Donald was born on Nov. 17, 1929, in Sioux City, to Joseph and Susan (Weis) Kramper. He attended schools in Dakota City, University of Nebraska in Lincoln, Neb., National Business Training in Sioux City, Community College in Santa Monica, Calif., and Air Force Electronic and Radar at Lawry A.F.B. in Denver, Colo.
Don married Dolores Barrett of Sioux City on June 18, 1955. They had four children, Karen/Rex of Duluth, Minn., Nancy/Glenn of Sioux City, Brian/Mindy of South Sioux City, and Allen/Laurie of St. Charles, Iowa. They had eight grandchildren and five great-grandchildren. He had three brothers, Vincent/Dorothy, Neal, and Leo/Evonne, and one sister, Dorothy/Keith Chapin. All are survivors.
Don was a lifelong farmer near Dakota City. He also had part-time jobs with Ruan Transport and Arrow Stage Line.
He was a member of St. Michael's Catholic Church, Knights of Columbus, Farm Bureau, 4-H leader, Nebraska Health Coordinating Council, Iowa Health Council, Sara Amateur Radio Assn. and Air Force Assn. His favorite hobbies were traveling, talking to people all over the country/world on Ham Radio, exchanging jokes/stories on the computer, and geocaching.
Don was preceded in death by his parents, Joe and Susie Kramper; his wife, Dolores Kramper; and a sister-in-law, Lorraine Kramper.